Our Painting Services Mackay
Our professional painting services include both residential and commercial painting services.
The most cost effective way to revamp your existing property, painting the interior and exterior of your home will add value to your property and significantly improve the feeling of your home, transform it into a fresh, well looked after home, the envy of the street!
If you're looking to have your home painted by professionals who are really good at what they do and are confident that you will also think so, contact us.
Save time and the pain of trying to do this yourself, we will be efficient, polite and leave you feeling not only happy with the result but pleased that we hardly even disrupted your normal daily life in doing so!
We paint commercial properties such as offices, businesses even public areas that have been damaged by weather or graffiti, we can provide you with an expert team that will meet your commercial painting needs.
With the reality of running a business, we get that disruption is a big barrier to getting work done on the property.
We will work efficiently, quietly, respectfully and neatly.
You will not need to worry about the disruption that our painting team will have on the running of your business or office productivity.
We also use low toxicity paints which have significantly less odour than regular paints, this way your clients and staff wont be bothered by the paint.
Interior Wall Painting
Are you looking to spruce up your home? Interior painting is the most cost effective way to shed years off the age of your house.
With endless possibilities to choose from, our professional interior painters will give your home the ultimate face life with a lick of paint.
Perhaps you're renovating your beautiful, older home because you want to give it a little love and a modern feel, choosing the right colours is important here to go with the overall 'feel' of the renovated home.
Talk to our expert painting team to discuss which shades and what colour combinations would make the best impact on your renovation in Mackay.
For our clients that are living in the home that we are painting, we do our very best to minimise the disruption that painting and all that goes into it has on your normal life.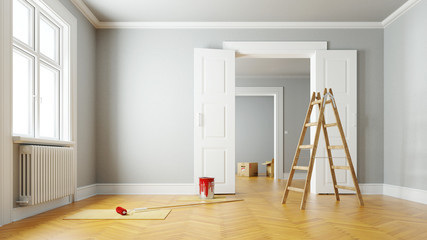 The process of interior wall painting:
1. Colour Selection – our expert interior painters can help you select the best colour for your unique home
2. Preparation of the area 0 all surfaces need to be cleaned properly and primed to ensure that the paint adheres and you'll get the best longevity out of your paint.
3. The painting team paints the area!
4. We clean up after ourselves and leave your property even better than when we got there because you'll be wanting to enjoy your brand new paint job without having to clean anything up!
Wet Area Painting
The main difference with wet area painting is in the preparation phase.
Wet areas require a special primer for paint to bond properly in anticipation for exposure to moisture, steam and condensation on a regular basis.
To get the best out of your paint in a wet area, make sure that it is well ventilated. To decrease the effect of condensation and consistent moisture by using the exhaust fan and opening windows.
Ceiling Painting
We paint all tyes of ceilings including conventional square set ceilings, suspended ceilings, exposed beams and even cathedral ceilings.
Kitchen Painting
We paint the walls in kitchens and we also can paint the cabinetry!
To give your kitchen the ultimate spruce up, painting the cabinets is an impactful way to do so.
The cabinetry needs to be in good condition and the surfaces prepared in order for the paint to have a beautiful finish, talk to one of our professional interior painters in Mackay to find out more.
Exterior Wall Painting
The outside of your house is exposed to the elements 24/7, 365 days per year. The exterior paint is exposed to these elements too and will eventually show signs of deterioration such as chipping and flaking or just fading. 
Choosing the right paint and primer is really important in getting the best longevity from your investment. 
A new coat of paint on the exterior of your home will surprise you with how much of a difference it makes in making your home in Mackay feel fresher, more modern and you'll find yourself bursting with pride when you drive into your driveway each day.
Work with exterior painters Mackay who love what they do and the difference it makes to the ever changing street scape of Mackay! 
Deck Painting
The iconic timber deck is loved by many Queenslanders. 
We offer deck painting services if you want to match the deck with the rest of the house, or maybe you just want the trimmings and handrails painted, we can do that whilst protecting the natural timber look of your deck too. 
Roof Painter and Gutter Painter
Our services also include roof painting. Get in touch with us to discuss what type of roof you have, how big it is and what your vision is for it. 
You may need to have your roof restored before we can paint it, in which case a roofer will need to be involved. 
Fence Painter
Our team has the equipment to paint your fence with efficiency and to a high standard. 
No need to get out the little brush and paint each panel individually, we have much more efficient ways to do that! 
Painter Mackay
Profesisonal Internal and External House Painting in Mackay
Painter Quotes
What to look for when you get a quote for painting your house
We offer FREE quotes for all interior and exterior painting jobs in Mackay.
The cost to paint the interior of a home is determined by the size of the area to be painted, the condition of the surfaces, the materials that will be painted (gyprock, plasterboard, concrete, brick etc) and how much prep work is required.
To give you an honest, painters quote for how much it will cost you to paint your home, get in touch for your FREE painting quote today.
We are reliable and take pride in our reputation therefore you can rest assured knowing that we will turn up when we say we will, do the work to a high standard and clean up after ourselves so that you can enjoy your newly painted house as soon as we're done!
There is a big price range that you'll find when getting painter quotes in Mackay, and all over in fact! This is because cheaper painting companies will cut corners when it comes to surface preparation (which is the time consuming part but absolutely essential) as well as how many coats of paint they'll use. 
Make sure that when you get a quote from a profesisonal painter in Mackay, that you know how many coats they will do, what paint they will use and what they will do to prepare the surface for painting. 
We encourage people to do their research and get quotes before making a final decision on who to hire, just make sure you are comparing apples with apples!